Get Adjusted Now and INKED MAG
Getting a tattoo may hurt, but giving one may lead to long-term postural aches. Receiving chiropractic care is prominent to maintaining alignment and relieving built-up stress and tension in the neck and upper to low back.
Our tattoo artists at INKED MAGAZINE in New York City put Get Adjusted Chiropractic to the test!
The Posture of Tattoo Artists
It's common for tattoo artists to experience chronic pain in their fingers, hands, arms, and throughout their upper body. The artist must bend over the client while tattooing, often with extended arms and a hunched upper back. Most of their body is in constant strain during the tattooing process. This strain comes from the act of sitting in this position for an extended period during the session. The small repetitive movements needed to complete the design can sometimes take hours.
While some say this is simply part of the job, there are specific tips that can ease this pain and make the lives of tattoo artists easier! Through chiropractic care, tattoo artists can work to reduce this discomfort and correct their working posture.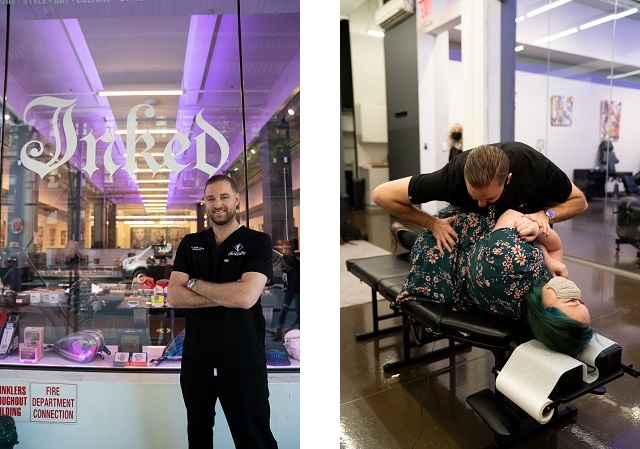 Working with INKED MAG
Dr. Justin Lewis visited INKED MAGAZINE's office in Chelsea, NY, to meet the staff that works behind the scenes! He provided complete spinal and neck adjustments. Each tattoo artist has their pain and tension areas that they experience due to their working posture. During their visits with Dr. Justin Lewis, he pinpointed these focus areas and manually adjusted each artist based on their needs.
"Some of the artists carried more tension in their neck or upper back area, while others felt a lot of discomfort throughout their back," explains Dr. Justin Lewis. "Meeting with all of the artists allowed me to focus on their specific problem areas."
Benefits of Percussive Therapy
During his visit, Dr. Justin Lewis was also about to treat the artists with short treatment sessions using the Theragun. The Theragun is a massage device that looks (and sounds!) like a power drill. There has been a sharp increase in usage and popularity in recent years, as it's effective for almost everyone. The Theragun uses percussive massage therapy to treat muscle soreness and relieve pain. Percussive therapy is a form of soft tissue manipulation that reduces muscle soreness and increases range of motion. It acts as a form of deep muscle treatment, delivering rapid and long vertical strokes into the muscle, causing a neuromuscular response.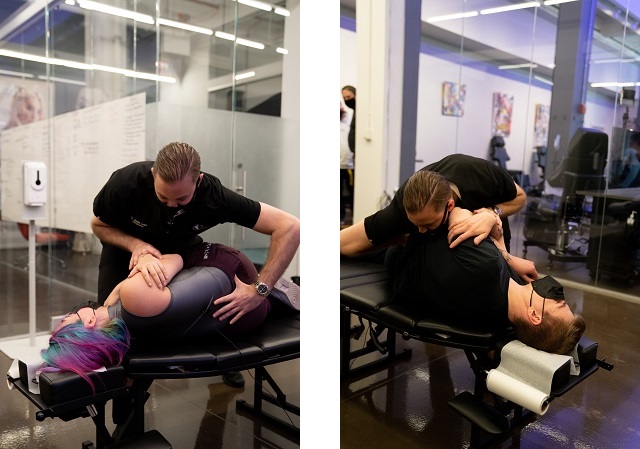 Since introducing the Thergun into the Get Adjusted Now chiropractic care, Dr. Justin Lewis has seen great success in patient's symptoms. These include:
• Reduced pain
• Increased blood flow
• Broken-down scar tissue
• Decreased lactic acid
• Reduced muscle spasms
• Increased lymphatic flow
• Improved range of motion and body awareness
Getting the Word Out
After our video on INKED MAG went viral, more and more artists started reaching out to us. To view our video,
click here
.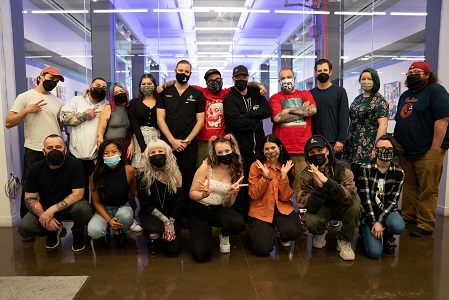 Health awareness and taking care of yourself should be a critical part of every occupation — including tattooing. Tattoo artists have a real opportunity to improve their craft and quality of life by introducing regular chiropractic care into their routine. Monitoring any pain and discomfort early on in your career as a tattoo artist is crucial — the sooner you see a chiropractor, the sooner any temporary and long-term pain can be addressed.
"It's integral to view your body as an extension of your job — taking care of yourself allows you to focus on doing better at your craft and developing your skills," says Dr. Justin Lewis. "If you're distracted by your body's aches and pains, you won't be the best you can be."
Calling all tattoo artists — book an appointment with our team today!. Call our office at 845-809-8300 to schedule time with Dr. Justin Lewis.